Fully automated pool control
for maximum comfort
The Elpo Poolbot is the most modern 6-way backwash valve in the world. In combination with the Elpo core , it is possible to achieve a pool control with the highest possible levels of comfort and water Advantages with Elpo Poolbot
control and monitor via our free Elpo App – even when you're not at home
maximum comfort at a minimum effort – thanks to fully automated & intelligent control and monitoring
top water quality – because of regular & automated pool cleaning
easy setup
Your pool doesn't currently have intelligent control? It's easy to integrate the Poolbot anyway into your home. Just contact us, lean back, and enjoy your ..pool
Keep an eye via the Elpo App
You're sitting at work and you're already counting the minutes to your after work pool party. Using the Elpo App you can see that the pool water has reached a comfortable temperature. Just one tap to open the pool cover and now your pool is ready for you and your friends.
At any time or place, you can take control via your smartphone. This way you can keep an eye on water temperature, water level, filter times, jet system, pool cover, and more.

Refreshing combination with lots of possibilities
Linking the Poolbot to the Elpo Core offers you a range of additional possibilities and outdoor highlights. This way Elpo will take over a lot of the workload:
refills if the pool if necessary
monitors the pool cover
activates spectacular, colored light when you're in the garden in the evening
heat up the pool e.g. via your photovoltaic or solar plant
takes care of the ph/chlorine values
controls your awning
makes it possible to activate the jet system for different scenes (e.g. swimming, relaxing,…)
und much more.
Do you want to know more how to realize those features? Just let us know! We're happy to help!
More Highlights of Elpo Poolbot
Info@elpo.co.il

Filtration
The water drawn in by the pump is filtered through sand, which removes dirt particles. The cleaned water then goes to the inlet.

Backwash
This process involves reversing the flow of water so that the water presses into the sand from below. This removes the dirt, which is then rinsed out into the wastewater connection.

Rinse
This is activated after backwashing to ensure that the dirt does not make its way back into the pool. The sand resettles and a small quantity of water is drained via the wastewater connection.

Circulation
During circulation, the unit bypasses the filter, simply pumping the water back into the pool

Waste
The 'waste' function drains the pool at the end of the season.

Closed
On this setting, all channels are closed.
Numerous Interfaces For Your Pool Control
The Elpo Poolbot has a lot of interfaces to provide a comprehensive pool control system.

Measuring the temperature
The Poolbot features a 1-Wire interface. This way you can add low-cost 1-wire temperature sensors.

Integrated Outputs
Use the three additional relay outputs for lighting controls, heat pumps, jet systems, and more.

Integrated Inputs
There are two unused analog inputs that could be used to install pressure sensors to measure the water level.

Filter pump and drain valve
The Poolbot has its own terminal to allow connection to a filter pump as well as a safety valve for the drain.
Find more information and highlights about the Elpo Poolbot in our webshop
Pools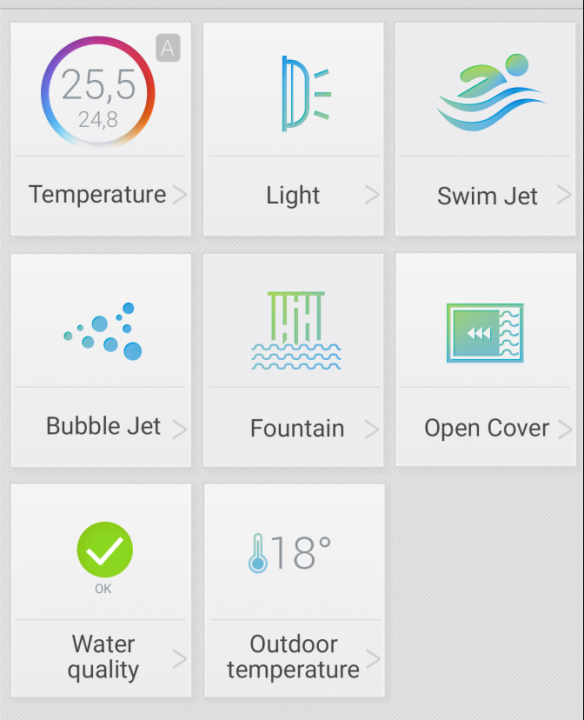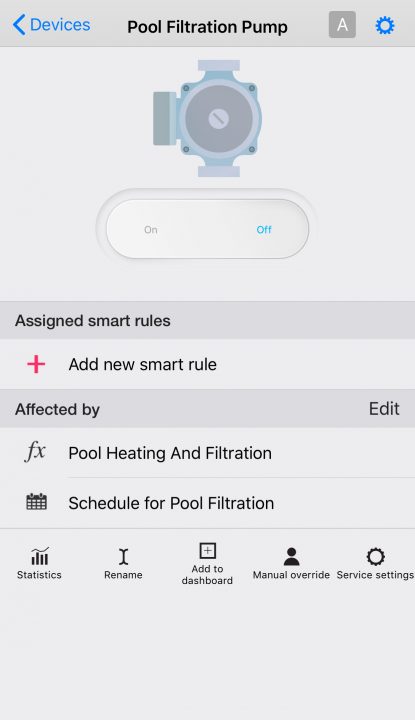 System controls pool filtration pump, temperature and lighting. Integration with pool water treatment system enables remote control of water quality.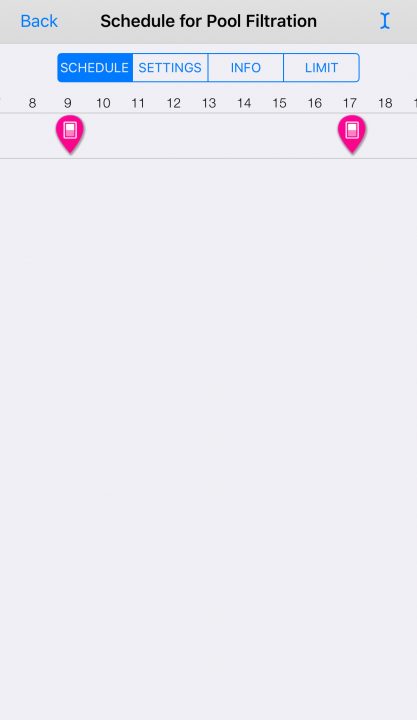 Also can control on water quality, RGB led pool light, water pump volume control, air jacuzzi pump volume control, pool covering motors control, infra-gate sensors protect children arround the pool, heating system control and act..
7 Smart Pool Automation Features – Part 1/2: Functions
Feature 1: Pro Training, Chill-out Swim, Whirlpool
To work off all those extra pounds piled on during the summer's BBQs, we decided to fit the pool with a jet system to create a unique swimming treadmill affair.
We installed two 2.8kW jet pumps to create some proper rapids in the pool. Not quite comparable to wild water rafting, but certainly plenty to allow even top athletes to put a good training session in. It's hard work but well worth it!
Of course we wanted to make this fun for the whole family not just me and so we made sure that the pump speed was freely adjustable to achieve just the right level of thrust and current. This means we can also have a relaxing swim with the jets set to low or even use them as massage jets just like in a hot tub.
To make things simple we created 3 scenes:
Pro Training – full power
Chill-out swim – just under half power
Whirlpool – 10% power
Of course these scenes are adjustable and we can also use a simple slider on the iPhone to adjust the power freely to match the pump's intensity.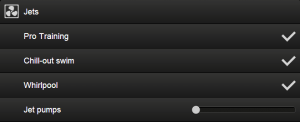 Feature 2: Granite Controls (my personal favourite)
When reading about the first feature you probably thought, 'using my iPhone in a swimming pool? Someone's going to end up dropping it!' But we've thought of that. The following feature is simple, yet so ingenius that I feel it more than deserves to get a quick mention…
We can adjust the pump speed without a smartphone or tablet. We've got switches. But no ordinary switches. If you install jets you usually end up with waterproof switches of some sort. Unfortunately the term 'waterproof' seems to be unanimous with 'ugly'. Of course this is subjective, but beauty's rarely at the forefront of switch designs, is it?
I wanted something that fitted in with the sleek overall design of things and so came up with something a little special. My 'switches' – if you can even call them that – are simply little engravings in the granite tiles at the side of the pool. Pretty cool, huh?
The perks:
No mechanical parts that will wear out in time
Nothing that sticks up to whack your toes on
A very clean, classy and sleek look
Feature 3: Adjustable filtration runs
One thing that most pool experts agree on is that a filtration pump should run multiple times per day and that the run time should be longer during the summer when water temperatures are higher.
Adjust filtration times depending on water temperature
By measuring the water temperature we can simply adjust the number of times the filtration pump runs (and the run time of each run). This results in:
2 runs per day with a water temperature of 20° C (with a total run time of 4 hours)
4 runs per day with a water temperature of 30° C (with a total run time of 10 hours)
For temperatures in between the times are simply calculated.
The advantages:
Less power consumption when the water is cooler
Longer filtration runs when they're required
Care Free: No manual adjustments of timers required!
Feature 4: Automatic Top-Up
There are many reasons for water loss in a swimming pool:
Back-flushing (cleaning) of the main sand/grit filter
Diving into the pool
Kids water fights
etc.
To ensure that the water level stays constant without having to think about it at all we simply added a little automation (of course!).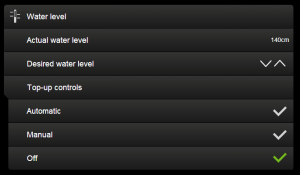 Once a day the desired water level (configured from your Elpo App) gets compared to the actual water level and the pool is topped up if required.
Of course we also log how much water is added every day, giving us accurate information about how much water our pool uses over the whole year and early warnings if there is a leak somewhere.
Feature 5: Fully integrated lighting
Pool lighting is usually its own kettle of fish, with bespoke fittings that can only be controlled from dedicated remotes.
This, of course, was never going to do! We've got various lights all around our patio area so we integrated our pool lights fully with these outdoor lights. The pool lights for example go through the same colour adjustments as the rest of our ambient LED lights.
Furthermore some very neat and minimal lights are activated automatically as part of the evening scene at sunset and are turned off when the patio doors are shut at the end of the evening. Not a single button press required!
Feature 6: Pool cover monitoring and alarm
We've got two young boys that just love running around tirelessly in the garden and you just can't keep an eye on them at all times. So knowing when someone opens the pool cover was very important for us.
Dome Cover
We chose to go for a fully closed dome cover in the end. Apart from preventing the kids accidentally ending up in the pool this cover also has the added benefit that it acts like a greenhouse prolonging the time you can effectively use your pool.
Those are the basics, now the impressive stuff…
If the cover is opened without prior permission, an alarm is triggered immediately. We're not talking deafening sirens, but:
A call to my wife and myself with a pre-recorded message
Flashing lights in various areas of the house
The permission for pool use can be granted in multiple ways:
iPhone, etc..
Double click on one of the outside light switches
Double click on one of the buttons next to the patio doors
Why a double click? – Simply so that the kids cannot get access to the pool by accident!
Once the pool cover is closed the alarm will automatically set itself again after 5 minutes, so you don't have to worry about resetting it. It's really a rather useful feature that gives us peace of mind when the kids are outside playing!
Feature 7: Automatic filter cleaning
As already mentioned earlier, one thing that was important to us was that the joy of having a pool doesn't get dampened (so to speak!) by a long list of weekly maintenance tasks that can cause an extra burden on our busy lives, but instead limit the amount of work needed.
Usually filter cleaning requires manual switching over of valves and then the running of pumps, etc. Not in our pool though. Every week at 4am on a Sunday morning the sand filter is automatically cleaned by back-flushing it followed by a clear-flush. This ensures that the filter always kept nice and clean.
If you feel like this is all getting a little too automatic, then you can of course also 'manually' clean the filter by pressing a button on your Elpo App.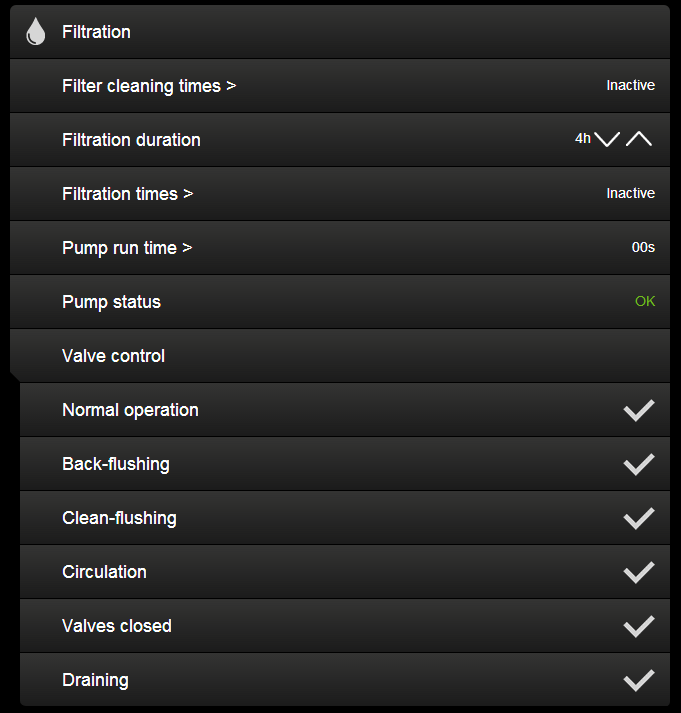 Additional features (Bonus!)
There are just too many features to keep it at 7 so here's a small bonus for everyone that is still with me!
One of the things that was really important to us was that the pool doesn't become a small intelligent island, but is fully integrated into the rest of our systems.
The benefits of an integrated system are often not really given enough consideration. Yet there's such great potential, from the straightforward things like:
Having everything controlled in one app
Being able to use switches in the house to control pool functions
Having the lights flash to tell us the cover has been opened…
… to the more complex things. As an example let's take the holiday mode. Once activated, the holiday mode changes how things work inside our home – the burglar alarm is armed, the heating's turned down, the presence simulation's activated, etc. In an integrated system this can be extended to the pool as well. For example, no automatic topping up to reduce the risk of flooding and save water. Makes sense, doesn't it?
Have you got a pool yourself and/or any ideas of what else could be integrated? Don't hesitate to leave us some feedback below.
P.S. Please don't forget: Everything from a technological perspective will be in the next part…